Do You Know How to Identify If You Have a Butler Building?
Butler Parts Online is an authorized supplier of Butler Building components only. Because we do not carry panels from other building manufacturers, we are unable to assist or supply parts for products for buildings other than Butler Buildings. To save you time, we list how you can identify if you have a Butler Building.
Unique Features of  Butler Buildings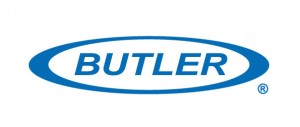 A Butler Building will have an emblem along the building ridge or on one of the gable trim locations. Butler's emblem will look similar to the oval logo shown above.
Compare your wall or roof panel profile to the available Butler Roof Panel Profiles and the

Butler Wall Panel Profile

s to determine if you have a match.
Check the dimensions of your panel to Butler Building panels. Many of them are unique in the industry. For example, the flute of the Butlerib II wall panel is a full 1 and 1/2" deep. There are no other ribbed wall panels on the market that are more than 1 1/4" deep. Use the list below to check the dimensions of our roof and wall panels.
It is important to note that, even if you have determined that you have a Butler building, there may be obsolete panels and parts that we could be unable to supply. Click here to view the

Obsolete Butler Building Panels

.
Roof Panels:
Wall Panels
Contact Us:
To help facilitate an efficient transaction, we help our prospective customers determine if they indeed have a Butler Building and are in need of Butler Building parts.
If you have a Butler Building, we look forward to helping you. We have Expert Services for quick delivery, great prices, and speedy quotes. In addition to our top-rated industry buildings and parts, Butler Parts Online has over 30 years of Butler experience and expert customer service. If you have questions, please contact us.