Does your building (or a customer's building) have hard to find or obsolete wall panels that you need to repair? Many times, this situation leads to a complete replacement of the entire wall system due to the fact that matching panels are not available, even if only one panel is damaged! An economical solution to this problem is a stacked wall system.
A stacked wall system consists of two different wall panels running the length of the wall separated horizontally by a continuous double wall base trim, more commonly called a "Z" flashing. This allows for the panels to act as one wall system to provide an attractive and effective barrier against the elements.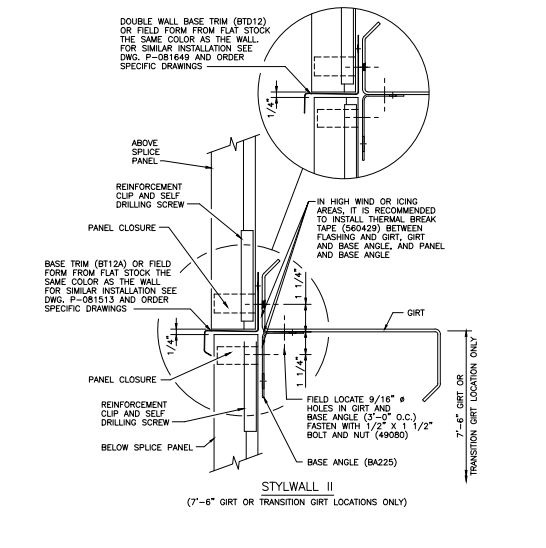 Wall damage on a Butler building normally occurs between the bottom of the wall system and the first wall girt located at 7'-6" above finished floor. A stacked wall system allows you to keep the undamaged upper portion of the existing wall panels in place and replace only the lower damaged sections with new Butler wall panels. Let's consider two repair options for a 60 ft. by 20 ft. building wall with obsolete panels. (see chart outlining costs in the bottom of this article)
As you can see in this model project, replacing the entire wall costs a staggering 132% more than a stacked wall option! Not only is there less material to buy, but there's no aerial equipment to rent and less labor to install the wall panels, making the stacked wall option the clear winner.
Three wall panels that work well in a stacked wall repair system are the Shadowall panel and Stylwall II Flat panel or Stylwall II Fluted panel. The Shadowall panel offers ascetic appeal and modular installation, allowing easy replacement of panels in high abuse areas. The Stylwall II Flat or Stylwall Fluted panel offers the architectural appeal of a uniform, unbroken assembly due to concealed fastening installation, making it the first choice of high end retail or commercial customers.