As a property owner, you've asked your contractor to put a Butler roof on your building, to your surprise they ask, "Which one?"
In order to decide which Butler roof best fits your building, you must learn what each roof offers and some of the different property types that each is suited for.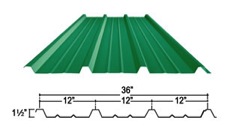 Butlerib II: Economical, Easily Serviceable
The Butlerib II (BRII) is the most economical roof for Butler buildings. It is a through-fastened roof that offers superior uplift resistance due to the use of the Butler Scrubolt instead of self-drilling screws. Not only does the Scrubolt offer twice the pullout strength when compared to self-drilling screws, it also adds to the weather-tightness of the panel because it doesn't readily "gnaw" away at the BRII roof panel when acted upon by the thermal movement of the roof as a self-drilling screw would. This leads to a longer service life than other through-fastened roofs. Additionally, the BRII roof doesn't require any specialized tools for service, making it a great choice if the property owner is going to do minor repairs and maintenance with in house crews.
The BRII Butler roof is a great option for:
Shops
Garages
Industrial buildings
Outbuildings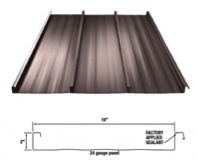 VSRII: The Architect's Roof
The Butler VSRII roof is truly the architect's standing seam roof. Not only is it visually appealing, being designed to fit most specifications for architectural standing seam roofs, it is designed with Butler's weather-tightness in mind. Unlike competitors' architectural roof panels that are joined with a small batten strip or snapped together, Butler's VSRII panels are mechanically seamed together for superior protection against the elements. The VSRII's clip also allows up to two inches of movement, allowing the roof to move with the natural expansion and contraction of the roof, adding to the effective service life of the Butler roof.
The VSRII roof is a great option for:
Schools
Churches
Commercial buildings with visible roof lines
Fascia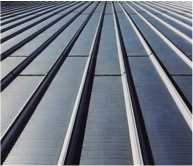 MR-24: The Industry Leader in Weather-tightness
The Butler MR-24 roof is the crème de la crème of standing seam roof systems. When you need the ultimate protection for what lies under your roof, you need the MR-24 roof system. It features a mechanically seamed panel with the patented 360 degree double-lock Pittsburgh seam (the same seam found on the rim of your soda can), a movable clip fastened with the Butler Scrubolt to absorb thermal movement of the panels, seamed in gable trim and parallel flashings, and engineered roof curbs. These features combine to make the MR-24 roof a highly engineered system, acting like a monolithic steel structure over your building. No wonder it's one of the only roof systems with over forty years of in place performance that continues to outlive its warranty.
The MR-24 roof system is ideal for:
Supermarkets
Low-slope roofs
Warehouses
Retail stores
Industrial buildings
No matter what roof you choose for your property, you can be sure that all Butler roof systems offer exceptional value, requiring less service and lasting much longer than conventional roofing systems.