The Butlerib II panel is an economical cladding solution for industrial buildings, warehouses, or out-buildings where durability and serviceability are a main concern.  Available in a roof or wall option, the Butlerib II panel is perfect for your next project.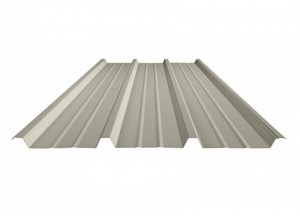 Main Features:
The deep 1-1/2" main rib increases the Butlerib II panel's strength, allowing it to span 5' purlin spacing in high snow conditions without the fear of panel collapse.
A miter cut option is available when using the Butlerib II panel for both a roof and wall application. The miter cut wall panel closes off the edge of roof condition without an additional trim piece, saving you time and money while providing a clean, finished appearance.
The Butlerib II roof panel has a return leg and sealant groove on the final main rib. This prevents the overlapped corrugation from rolling during side lap fastening, ensuring a weather tight condition at every panel lap on your roof.
The exposed fastening system makes replacing damaged panels a breeze, whether you're a seasoned contractor or a building owner.
The Butlerib II wall panel is available in a wide range of standard Kynar colors and the roof panel is available in a limited selection of Kynar colors or a cost saving bare Galvalume finish.
The panels are available in a standard 26 gauge thickness or an optional 24 gauge thickness for exceptional strength and durability.
Getting a quote on the Butlerib II panel is easy, just provide us with a cut list containing the quantity, length, and gauge of the panels you need, a zip code to estimate shipping, and your contact information and we'll take care of the rest.
Need help or aren't sure where to start on your project? Contact us and we'll be more than happy to work with you to find the right solution.