Shadowall Wall System Adds Style and Energy Efficiency
The Shadowall Wall System is a premium, semi-concealed wall system from Butler Manufacturing that adds architectural style and energy efficiency. These two features, although both important, are hard to find together in pre-engineered buildings. Its unique corrugation pattern casts pleasing shadow lines and the semi-concealed fasteners also enhance appearance. The Shadowall System will look great on any project where style is a major consideration.
The unique pattern of the Shadowall Wall Panel allows up to 6" of insulation between the wall panels and girts. Using eShadowall spacer blocks will allow up to 8″ of insulation. Energy efficiency is gained through its unique assembly design, combining thermal spacer blocks and fiberglass blanket insulation. Choosing the Butler Shadowall System allows you to easily meet the new stringent energy codes while saving money on total operating costs.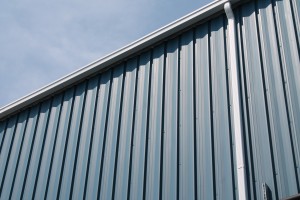 While energy-efficiency and a pleasing appearance are important features, the Butler Shadowall Wall System offers additional unique features and benefits.
Shadowall Wall System Main Features:
Through-fastened panels allow for easy installation
Lower upfront labor costs due to the ease of installation
Through-fastened panels are easy to replace if they are damaged
Recessed fasteners give walls a uniform appearance with smooth, clean lines
Available in a wide selection of standard Kynar colors ensuring there is a color to meet your project requirements
When fasteners are used to install the deep 1-7/16" corrugations, the panels are extremely durable and can resist the strongest wind loads
Strength and durability due to its standard 26 gauge thickness and an even stronger, optional 24 gauge thickness
Using the eShadowall System's thermal spacer blocks, you can easily meet stringent energy code requirements
High energy-efficiency saves your customers on total operating costs of building for years
For Additional Information:
Getting a quote on the Butler Shadowall Wall systems panel is easy! Provide us with a cut list containing the quantity, length, and gauge of the panels you need, zip code to estimate shipping, and your contact information and we'll take care of the rest. An estimate will be created and sent to you right away. If you have questions, a qualified, experienced Butler representative will be assigned to assist you.
Click here for a Shadowall Panel specification sheet.
If you have additional questions or need help starting your project, please contact us and we will be more than happy to work with you to find the right solution.